Thursday, 28 March 2013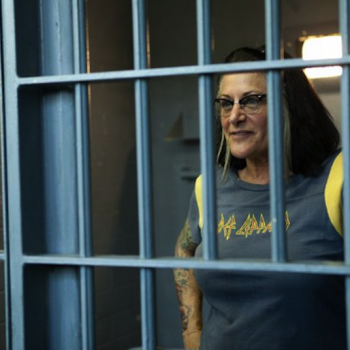 Photo: Matt Kennedy
Wednesday, 27 March 2013
Jules Stewart's lunacy in prison opus K-11 is getting set to make its DVD and Blu-ray debut courtesy of Breaking Glass Films, and we have all the details you need on whether or not to sentence your cash flow to a worthy purchase!
From the Press Release:
Breaking Glass Pictures and Libertine Films are proud to announce the upcoming April 23 Blu-ray
(SRP $29.99) and DVD (SRP $24.99) release of Jules Stewart's directorial debut, K-11, a riveting drama that tells the story of a man's plight after winding up in K-11, the Los Angeles County Jail's transgender inmate unit. K-11 is currently screening at select theaters in fifteen cities around the country and is available nationwide on Video On Demand.
K-11 stars Goran Visnjic (ABC-TV's new hit series "Red Widow", The Girl with the Dragon Tattoo, "ER") as Raymond Saxx, a businessman whose drug use leads him to incarceration in the section of the Los Angeles County Jail reserved for LGBT inmates and firmly under the heel of Mousey (Mexican superstar Kate Del Castillo, Under the Same Moon, "La Reina del Sur", "Weeds"), a malicious transgendered inmate. Saxx has no idea how he got there — all he knows is he needs to get the hell out... alive and intact. Aggressive cellmates, corrupt officials, and his own issues are just a few challenges he faces while he pieces together a way out of this entirely new kind of rabbit hole.
K-11 also stars DB Sweeney (Taken 2), Jason Mewes (Jay & Silent Bob, Clerks), Portia Doubleday (Kimberly Peirce's Carrie, Youth in Revolt, Almost Kings), and Tommy "Tiny" Lister (The Fifth Element, Jackie Brown). Jules' son, Cameron Stewart, makes his film debut in K-11 as Sledgehammer while daughter Kristen (The Twilight Saga, On the Road) makes a special contribution.
The Blu-ray and DVD will come complete with a commentary by Jules Stewart and producer Tom Wright, deleted scenes, interviews with key cast and crew, a behind-the-scenes featurette, the "My Liberty" music video by cast member Billy Morrison, and a photo gallery.
Tuesday, 26 March 2013
"Arranque De Pasion, La Historia De Ela" will premiere on April 1
DAYTONA BEACH, Fla. -- NASCAR and Univision will make history on April 1 as "Arranque de Pasión, La Historia de Ela," the first-ever sports-themed original project for the leading media company serving Hispanic America, debuts in the U.S. and Puerto Rico on Univision.com. Following five consecutive weeks of three new five-to-seven-minute episodes, this NASCAR-themed drama will air an edited version in a special primetime network television debut on Univision on Sunday, May 5.
Earlier that day, the NASCAR Sprint Cup Series will also celebrate its return to the famous Talladega Superspeedway with the 44th running of the Aaron's 499 (FOX and FOX Deportes, 1 p.m. ET).
"Arranque de Pasión, La Historia de Ela," is a co-production between Univision Studios and Kate Del Castillo Productions, Inc., in association with NASCAR. The drama stars internationally acclaimed television and motion picture actress Kate del Castillo, who served as Honorary Starter for the Auto Club 400 at Auto Club Speedway in Fontana, Calif. on Sunday, as well as leading men Carlos Ponce and Christian Meier. Shot at Homestead-Miami Speedway, "Arranque de Pasión, La Historia de Ela" is also NASCAR's first-ever Spanish language original production.
"Novelas are a popular genre for Univision and Hispanic audiences, and we think NASCAR is a very exciting universe for storytelling and unique original projects like 'Arranque de Pasión, La Historia de Ela,'" said Zane Stoddard, NASCAR vice president of entertainment marketing and business development. "We have developed a great relationship with Univision over the last several years, and this project is a wonderful opportunity to introduce Univision's millions of online and television viewers to the excitement and passion of NASCAR."
Following the premiere on Monday, April 1, a new episode will be released every Monday, Wednesday and Friday, midnight ET, for five consecutive weeks, culminating with the Univision network television special on Sunday, May 5. NovelasySeries.com will also provide compelling behind-the-scenes footage, exclusive content, character bios, previews, recaps, trivia and much more for users to engage with before, during and after each episode airs.
"Univision Studios is pleased to partner with NASCAR and Kate del Castillo Productions, Inc. to debut a compelling novela that takes place in the exhilarating world of NASCAR," said Luis Fernandez, president of Univision Studios. "This new project will allow us to continue our commitment of offering Hispanic America culturally relevant content across platforms, including online and on mobile."
NASCAR's Los Angeles-based Entertainment Marketing division continues to focus on integrating NASCAR into mainstream pop culture through original productions, television show integrations and at-track celebrity appearances. In addition to "Arranque de Pasión," other recent projects include Joey Logano appearing on Cartoon Network's Hall of Game Awards, actor James Franco serving as Grand Marshal for the Daytona 500 and Dale Earnhardt Jr., Kasey Kahne and Tony Stewart "guest-starring" on The Cleveland Show.
For more information on "Arranque de Pasión, La Historia de Ela," visit
Univision.com.
The NASCAR Sprint Cup Series continues on Sunday, April 7 with the STP Gas Booster 500 (1 p.m. ET, FOX) from Martinsville Speedway in Virginia.