Friday, 16 December 2011
You can check out the rest of Jay's YT channel here:
MRMEWES
:)
The standing ovation before the show even began assured the packed Bing Theater audience that we were in store for a good time with The Princess Bride. In Jason Reitman's third installment of the Film Independent at LACMA Live Read series, the classic tale of ambidextrous sword-fighters, kidnapped princesses and inconceivable villains was revisited with a cast of returning Live Read participants, new faces and some nostalgic surprises. The holiday season tends to bring about memories of childhood and it did for many when the original Westley, Cary Elwes, walked out to sit for the role of Humperdink, Fred Savage came back on to reprise his original boyhood role as the Grandson and the Grandfather turned out to be the man who presented us with the story back in 1987, director Rob Reiner. These surprise cast members weren't the only ones who walked on stage with fond memories of the film:
• the Live Read's Westley, Paul Rudd, channeled the character perfectly, to the notable approval of Cary Elwes
• Patton Oswalt's every word carried the perfect blend of eye-rolling braggadocio and hilarity that the original Wallace Shawn created in Fezzini
• Goran Vijnic's growly promises of revenge and charming sense of helplessness would have made Mandy Patinkin proud.
• Kevin Pollack as Miracle Max (originated by funnyman Billy Crystal) made everyone wish that the Miracle Max character wasn't so secondary
The cast was rounded out by Bill Fagerbaake as Fezzik (originated by Andre the Giant), Nick Kroll as Count Rugen (originated by Christopher Guest), Collette Wolfe as Valerie (originated by Carol Kane), and Mindy Kaling as Buttercup (originated by Robin Wright). Mindy Kaling's on/off accent didn't detract from her defiant Buttercup and it was a lovely sign of the diversity that Film Independent and our partners seek to promote that the blonde princess was this time played by a woman of Indian background. Jason Reitman's motivation to make the Live Reads a place to play around with casting is paying off in more ways than one.
The Live Reads have proven to be a spectacular success amongst diverse audiences—everyone from Michael Govan (director of LACMA) to Kaling's "The Office" co-star/co-writer BJ Novak to film students and screenwriters sat with wide eyes watching a familiar story unfold on stage in a whole new way. This time around spoons clanged out a sword fight (courtesy of Patton Oswalt), mock passionate kisses between Rudd and Kaling made us giggle and an absorbed and adventure-hungry Fred Savage listened to his Grandfather's story. Well… maybe it was just new enough.
However, don't think this superstar in the making is relegating himself to the world of comedy. He recently wrapped a role in director Jules Stewart's prison drama, "K-11," which marks a significant departure from his trademark funnyman persona. Amidst a hectic schedule, he spoke with me regarding his thoughts on the entertainment industry, his dream role and his new role.
XI: What's next for you?
I'm featured in this great new film called "K-11″ directed by Jules Stewart. Hopefully it will be going to the 2012 Berlin Film Festival and we'll have a domestic release later that year. It's a very gritty prison story. As a comedian, it's always great to play drama; I always immerse myself in it when I get a chance to. We shot at a prison so everything was so realistic. Playing a prisoner was so eye-opening. I'm a passionate actor so, whatever I do, I go full-out and do it.
I'm also featured in another great film called "Eating Out: The Open Weekend" which just made its premiere in Palm Springs and will be coming to DVD in 2012 and also will air on the Logo network in July 2012. Weekly, I co-host a radio show with Jasper Cole called "On The Set with Jasper Cole" and we interview celebrity guests from all aspects of entertainment.
This was definitely one of my most memorable interviews in almost 3 years of doing this. Ralph is effervescent, realistic and a real hoot…paging television executives, this man would be great on ANY show! Make sure you follow Ralph on Twitter (@Ralphcolejr).
For the great full interview with Ralph go here at the source
ximagonline
.
via
@KstewAngel
thank you for the tip.
K-11 Movie Fan Site side note: The mention of the Berlin Film Festival is exciting.
Thursday, 15 December 2011
@JasonReitman
:
Goran Visnjic in the role of Inigo Montoya
originated by Mandy Patinkin. Live Read of The Princess Bride. Film Independent @ LACMA
Jason Reitman tweeted the above announcing Goran's casting for the reading earlier today (Dec 15)
Live Read: Directed by Jason Reitman – The Princess Bride
The next installment in the series of director Jason Reitman's readings of canonical film scripts will once again feature surprise casts this time revisiting, The Princess Bride.
This beloved classic fairytale begins with a grandfather reading his favorite book "The Princess Bride" to his hard-to-impress grandson. This book, he promises, has everything – "Fencing. Fighting. Torture. Revenge. Giants. Monsters. Chases. Escapes. True love. Miracles." – and all that he promised comes to life before the boy's enchanted eyes as his grandfather reads him the adventures of Buttercup, the most beautiful woman in the world, and Westley, the man she loves.
The cast so far includes:

Patton Oswalt as Vizzini originated by Wallace Shawn
Nick Kroll as Count Tyrone Rugen originated by Christopher Guest
Kevin Pollak as Miracle Max originated by Billy Crystal
Mindy Kaling as Princess Buttercup originated by Robin Wright
Paul Rudd as Westley originated by Cary Elwes
Bill Fagerbaake as Fezzik originated by Andre the Giant
Goran Visnjic as Inigo Montoya originated by Mandy Patinkin
Tuesday, 13 December 2011
FOR A GOOD CAUSE, PLEASE READ!!
As many of you are aware, on my last solo run I had everyone attending bring a toy. This got you into the meet & greet directly after the show to say hello / give hugs. I then donated the toys to my local children's hospital.. and the amount of toys I was able to donate because of ALL OF YOU was OVERWHELMING!!
Therefore, I've decided in the spirit of the holidays to continue this tradition. The following is a letter that was passed along to me by a close family friend.
The point? To anyone attending my shows in the midwest this weekend, I would appreciate it if you would PLEASE bring a pillow pet, or two. I'll then be donating them all to the cancer patients over at Helen DeVos Children's Hospital in my home state of Michigan. This will grant you a spot in line for the meet and greet after the show. I will also be pulling 5-8 people from the line prior to the show that have pillow pets to come in, and watch soundcheck / hang w/ me for a bit.
Let's be selfless and help these in need cancer patients feel the love that they deserve. Please take the time to read this letter, and take the small effort in purchasing / bringing a pillow pet and bringing them to the shows that I have planned this weekend.
Love you guys! Together, we can make SUCH a huge impact in these kids lives!
-Craig.
Click letter for larger view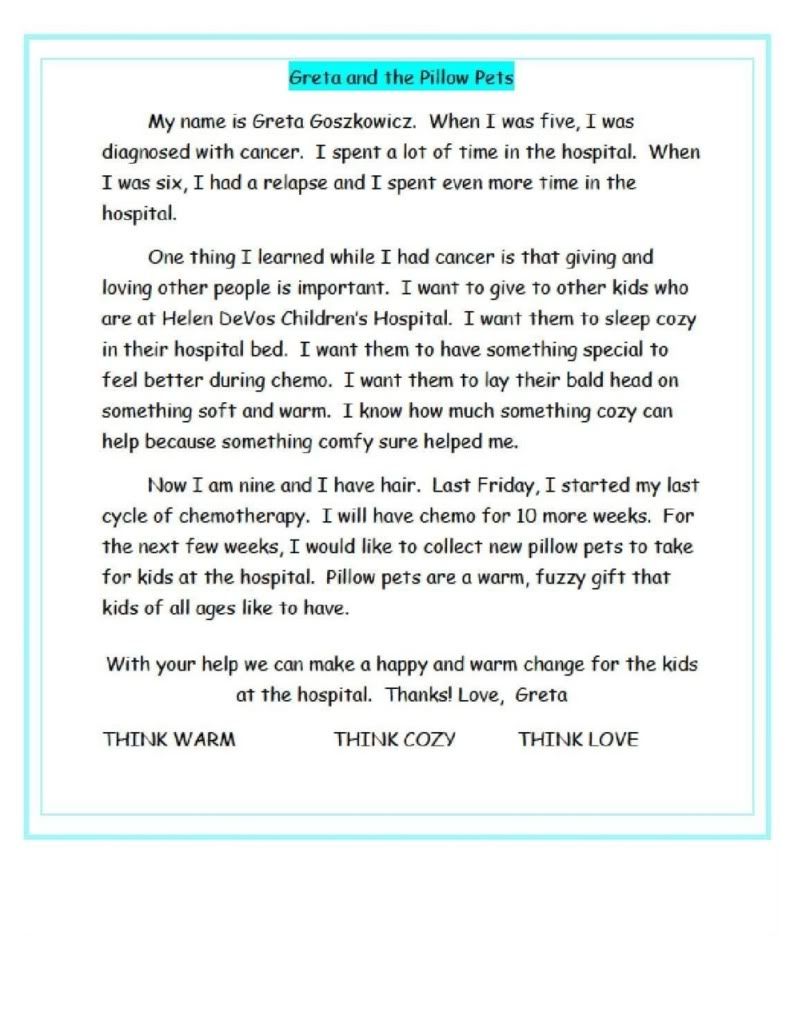 Please do try to try and help out this great cause if you do attend any of Craig's shows.
If not, you can still support the cause by bringing awareness to the cause by adding #StandUp to tweets if you are on Twitter.