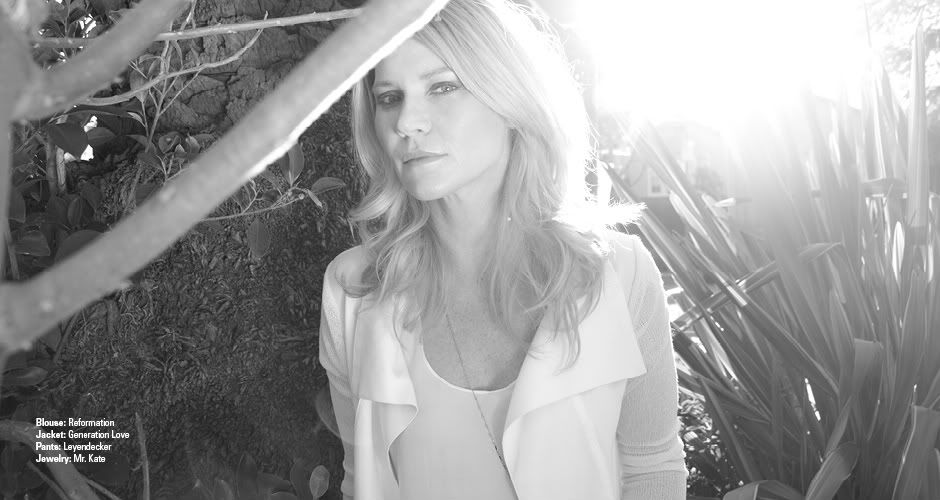 Tara Buck is best known for her recurring role as Ginger in the HBO series True Blood. Her on screen appearances include Bones, Southland, Justified, Cold Case, The Closer, The Shield, The X-Files, Sabrina the Teenage Witch, Without a Trace, Strong Medicine, JAG and Navy NCIS. She has also acted in numerous live theatre presentations including a lead role in As You Like It.
Q&A
What/Who inspires you as an artist in the following categories:
Beauty: Youngblood Cosmetics. They are a cruelty free line of makeup and when I was introduced I fell in love.
Culinary: Chef Eric Greenspan and his grilled cheese, Baco Mercot, Dalia Lounge, Malo in Silver Lake.
Fashion: My current obsession, long white dresses.
Film: I just watched again A Woman Under the Influence – It's incredible and the performances are so real it's painful to watch.
Literature: I am reading 2 books now, Jon Krakauer's Under The Banner of Heaven and Moonwalking with Einstein by Joshua Foer.
Music: I'm very partial to my man's music. He's a super talent and has the voice of an angel. My favorite is when he is practicing around the house. Check him out Chris Pierce Music on itunes.
Photography: Cindy Sherman is an extraordinary artistic influence on me. I find her work thought provoking and exciting.
Stage: The last play I performed in was Paula Vogel's "How I learned to Drive". It is wonderfully honest piece of writing and working on the character of Lil 'Bit challenged me to stretch way beyond my comfort zone.
Television: I'm obsessed with everything HBO. True Blood of course and I never miss an episode of Game of Thrones or Boardwalk Empire.
Can you describe the time when you first realized that creating was something you absolutely had to do:
I think I wanted to be a ballerina first then I decided a circus performer was more my calling. I started creating and performing skits for anyone who would watch and I had a dress up box that brought hours of fantastical entertainment to my childhood.
What are you trying to communicate with your art:
That every person has a story and a voice worth listening to.
Any exciting projects on the horizon:
True Blood season 5 is coming in June.
In addition I have two films headed to festivals this year. K-11, a twistedly delicious prison drama directed by Jules Stewart. I play Crystal, a transgender who runs with an eclectic crew.
The second film is Boot Tracks with Stephen Dorff, Michelle MonaghanWillem Dafoe. Need I say more? It has everything I love in a film and it's directed by David Jacobson!
Which creative medium would you love to pursue but haven't yet:
Sculpting
What are your greatest accomplishments in the industry:
I'm still here.
What one thing that has happened in your life has made the biggest impact on who you are today:
Wow. My brain just got scrambled. I'm not sure I can think of one specific thing. My Mom has had a pretty big impact on me so maybe it was the moment I decided to reincarnate into this life and I chose her.
What makes you truly happy:
Creating
What keeps you balanced and sane:
Hiking, the beach, working up a really good sweat.
For more information on Tara Buck, visit
www.tarabuck.com
See more of Tara's photo shoot for the magazine, here at the source
onthecuspmag
.