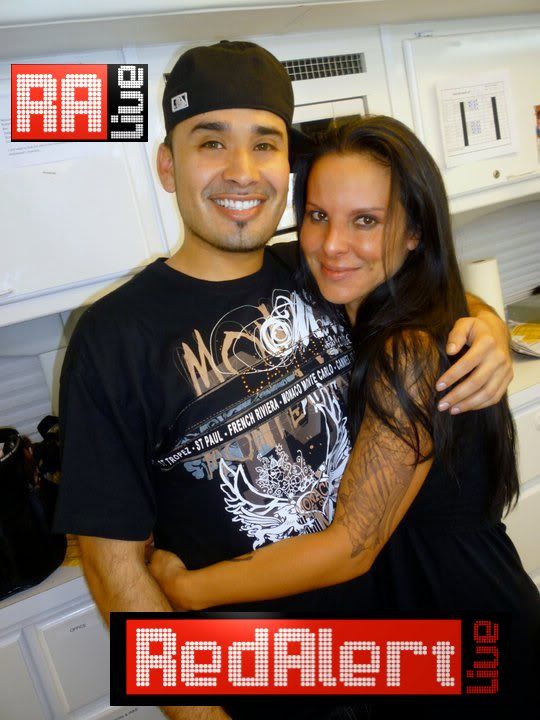 Actor & RAL Correspondent Jovanny Venegas & Actress Kate del Castillo on the last day of filming after 13 hours of being in the K-11 prison.

In the film K-11 is a unit of the L.A. County jail where gay and transgender inmates are separated from the mainline population. The K-11 unit is ruled by a transsexual inmate named Mousey who is played by Mexican Soap Queen Kate del Castillo "La Reina Del Sur."
In a recent interview Kate del Castillo says "I play a transexual and she is bad ass!" In another interview she stated "I'm playing a transgendered [person] and that was very challenging, and that's what I want. To be in projects that are interesting to me and [where] I will learn from the character."
Actor and RAL's Jovanny Venegas said
"I had a great time working on K-11. Awesome director, cast, crew everyone was great including the ghosts.
(Laughs) No seriously, the prison was really haunted! We were shooting in a real life prison which has been closed for many years. We shot for many weeks and sometimes 12-13 hour days…. I had some time to explore, there was this one specific ward – I believe it was the psych ward were I really got a strong supernatural feeling. You can just feel it, it was intense! There was even a time I got so scared that I ran out screaming like a little girl. I actually have video of it."
Actress Tara Buck told RAL "
I play Crystal in the film. I had a great time working on K-11. There are so many eclectic characters in the cast, great crew, fantastic director and tattoos for days. So much fun.
Tara continued with
"I think the movie is a wonderfully unique film. It's tantalizingly twisted, dark for sure, and I think audiences will be surprised to find themselves laughing as well. It's a very entertaining world that Jules has created. Absolutely go see it!"
K-11 definitely looks intense watch the official promo reel below (RAL Will continue to bring you K-11 exclusives!)