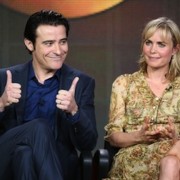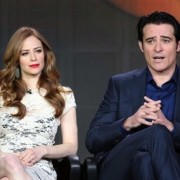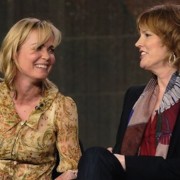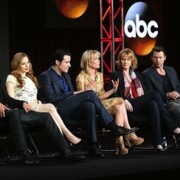 PASADENA, CA - JANUARY 10: Actors Goran Visnjic and Radha Mitchell of 'Red Widow' speak onstage during the ABC portion of the 2013 Winter TCA Tour at Langham Hotel on January 10, 2013 in Pasadena, California.
Even if you don't know who Melissa Rosenberg is, you've probably seen her work; she's the screenwriter behind all the Twilight movies and was a head writer on Dexter for the first four seasons. Now she's running her own show, Red Widow, as creator and executive producer, and she came to the TCA with the stars of the midseason series, including Radha Mitchell and Goran Visnjic.
Mitchell plays the lead character, a mother who is pulled into a crime web after the death of her husband, while Visnjic plays a drug lord pulling the strings. The two talked about their characters and what drew them to the show, while Rosenberg gave other tidbits about the series.
Mitchell describes her main character of Marta as a housewife who's been "avoiding her criminal upbringing by living a life of a soccer mom, [then is] dragged into a world she has been trying to avoid her whole life." Mitchell calls it her dream role, since she sees similarities between Marta and a character she had always been fascinated by: the heroine of La Femme Nikita, "a woman who discovers all these strengths under duress."
Visnjic originally turned down the character of Schiller because he only appears briefly in the pilot, but he reconsidered after he said Rosenberg made "promises about what he would be." It sounds like Visnjic will be a big part of the series, and he assured us that "from episode two on, it's really fun, unusual stuff I've never done before." Another bonus? "I love the suits!"
Anson Mount (who memorably starred in Crossroads as Britney Spears's love interest) plays Radha's husband who gets killed in the pilot, and Rosenberg talked about whether we'll ever see him again. At first things sounded hopeful, because she said once he was cast, "we all loved him" and thought "maybe he should come back." Unfortunately, Mount was sacrificed for the story, ultimately, and Rosenberg decided to stick to the focus of Marta moving forward. "It's about moving forward, and the shift into her relationship with Schiller," Rosenberg said.
BuzzSugar
LQ Photos:
LegalProNews