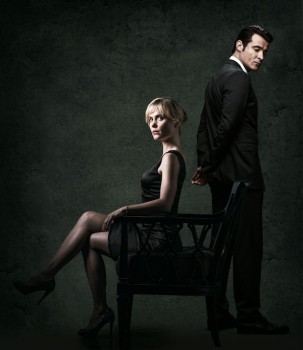 Click image for larger view
Launching with a two-hour premiere on Sunday, March 3 at 9/8c (before settling into its Sundays-at-10 home), Red Widow stars Radha Mitchell (Silent Hill) as Marta Walraven, "a housewife who has been sort of avoiding her criminal upbringing by living the life of a soccer mom," the actress explains. "She then is suddenly dragged into that world… when her husband is assassinated in relation to a drug incident."
Because though Marta's husband paid dearly with his life, that fails to offset his debt with crime lord Nicholae Schiller, played by Goran Visnjic in a role that could not be further from his last series regular gig, as ER's Dr. Luka Kovac.
Returning to TV as a formidable international crime boss "was really fun," Visnjic says. "The character is completely unusual, something I've never done before." When pitched the role, he recalls, "I was thinking it's going to be a very interesting thing to do."
Rounding out the cast for Red Widow — which is based on the Dutch series Penoza — are Sterling Beaumon (Lost) as Marta's son, Jaime Ray Newman (CSI: NY) as her sister Kat, Rade Serbedzija (24) as her father, Clifton Collins Jr. (The Event) as FBI Agent James Ramos, Lee Tergesen (Oz), Luke Goss (Hellboy II), Suleka Mathew (Men in Trees), Wil Traval (All Saints), Erin Moriarty and Jakob Salvati.