Screencaps,
press each one for a larger view.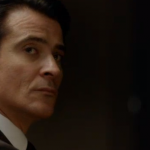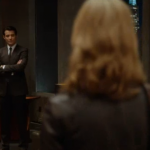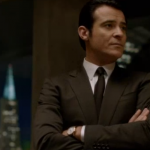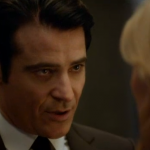 Watch the first episode! Only viewable in the US.
Don't mess with a mama bear.
In ABC's new thriller, Marta Walraven (Radha Mitchell) grew up in the world of organized crime in San Francisco, but believed she'd escaped it. But her normal life is turned upside down when her husband and the father of her three children is gunned down in their driveway.
The housewife finds herself moving deeper into the dangerous, dark world she thought she'd left behind. She discovers her husband stole drugs, which she has to pay back to a criminal kingpin named Schiller (Goran Visnjic).
And then there's the question of who killed her husband, Evan Walraven.
So, what can you expect from the action-packed premiere episode? Here are five things to know about "Red Widow":
1. The show has a "Twilight" connection!
No, no vampires running around the Pacific Northwest. Showrunner Melissa Rosenberg was the screenwriter behind the entire "Twilight" saga. And just like that franchise, she had to adapt from an original, since "Red Widow" is based on a Dutch series called "Penoza." But where "Twilight" had to be condensed, Rosenberg had to fill out "Penoza."
"I used a lot of the same plotting stepping stones, but I really had to develop all of the secondary characters and their relationships," she told Collider. "What you're building, hopefully, is seven years on the air."
2. Marta will be breaking bad
Rosenberg wanted to write a complex female lead character along the lines of the antiheroes we see on cable. "We've had on cable these male characters who are very flawed and complex: Tony Soprano, Dexter Morgan, Vic Mackey," she told TV critics in January. "We've just begun to have that on cable for women in 'Nurse Jackie' and 'Weeds.'"
But the show Rosenberg most wants to emulate? "Breaking Bad."
"It is the model," she said. "I don't know where the character could go -- she could be as bad as Walter White."
3. But she'll still be a mom.
Marta won't be cooking up meth or murdering anyone. While she discovers a knack for the criminal (maybe it's in the genes), she's still focused on her three kids. "She's dealing with all these mundane, maternal issues," Mitchell explained. Marta engages in the criminal aspect of her life only to protect her kids.
"I think there's something beautiful about that maternal energy and seeing that not as the backup to a male lead. We don't often see mothers as leads."
4. Goran Visnjic was Rosenberg's first choice to play Schiller.
But the "ER" star didn't sign on right away because Schiller appears just briefly in the pilot and he wanted a meatier role for his return to series television. Rosenberg eventually won him over with promises of deeper character development in future episodes.
"It was a lot of belief in what Melissa's going to write afterwards," he said. "And I have to say, from Episode 2 on, it was really fun to do all these things.
"And the character is completely unusual, something I've never done before."
5. Who killed Evan Walraven? We'll find out at the end of Season 1.
The mystery of Evan's death will not drag on forever. "Having learned from 'The Killing,' we are answering the questions of who killed [Evan] and where is the coke," Rosenberg promised. "The question of how Marta is going to get herself out of this is a series-long question."
And don't expect too many more shocking deaths. "By the end of the season, we'll have a satisfying answer to the season, but I'm not giving anybody up," she said. "I'm not killing everyone, and I'm not letting anyone off the hook."
The 2-hour premiere of "Red Widow" airs Sunday, 3/3 at 9 PM on ABC.
Note executive producer & writer, Melissa Rosenberg at around 14mins in the party scene.