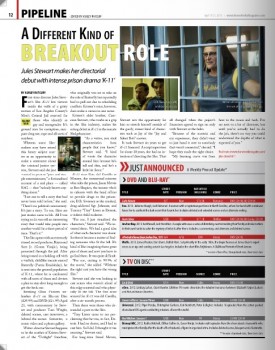 First-time director Jules Stewart's film, K-11, lets viewers inside the walls of a gritty section of Los Angeles County's Men's Central Jail reserved for those who identify as gay and transgender. It's ground zero for corruption, rampant drug use, rape and all sorts of mayhem.
Whereas some filmmakers may have seized this heavy subject matter as an opportunity to make a statement about the criminal justice system, Stewart said she just wanted to present "pure and simple entertainment," a fictionalized account of a real place — called K6G — that "nobody knows anything about."
"I set out to tell a story that had never been told before," she said. "There's no political commentary; there's no message; there's no nothing. It's just a story. To me, films are just stories come to life. All I was trying to do was tell an interesting story that would take people into another world for a short period of time. That's it."
The film opens with an extremely stoned record producer, Raymond Saxx Jr. (Goran Visnjic), being processed through the jail. After being tossed in a holding cell with a waifish, childlike inmate named Butterfly (Portia Doubleday), he is sent into the general population of K-11, where he is confronted with all sorts of chaos and devises a plan to stay alive long enough to get the heck out.
Breaking Glass Pictures unleashes K-11 on Blu-ray Disc ($29.99) and DVD ($24.99) April 23, with commentary by Stewart and producer Tom Wright, deleted scenes, cast interviews, a behind-the-scenes featurette, a music video and a photo gallery.
Writer-director Stewart happens to be the mother of Kristen Stewart of the "Twilight" franchise, who originally was set to take on the role of Butterfly but reportedly had to pull out due to scheduling conflicts. Kristen's voice, however, does make a cameo in one scene.
Kristen's older brother, Cameron Stewart, who works as a grip in the film industry, makes his acting debut in K-11 as the inmate Sledgehammer.
"As a writer, you steal characteristics from people that you know," Stewart said. "I kind of wrote the character around him because he's tall and thin, and he's a little bit fierce. He's definitely not a Neo-Nazi. I stole some of his lines that he says in real life. … Based on that, he agreed to play the character because he really didn't have to act. He just had to be himself."
K-11 stars Kate del Castillo as Mousey, the transsexual mistress who rules the prison; Jason Mewes as Ben Shapiro, the inmate who's in cahoots with the head officer to provide drugs to the prisoners; D.B. Sweeny as the crooked, drug-addicted Sgt. Johnson; and Tommy "Tiny" Lister as Detroit, a violent child molester.
"For me, I just visualized the characters," Stewart said. "We invented them. We had a good idea of what each character was about. So then it became a matter of finding someone who fit the bill. It's kind of like imagining those great pair of shoes and now you have to go find them. It was quite difficult.
"For me, casting is 99 9/10% of the movie," she added. "Without the right cast you have the wrong film."
Stewart said she was looking to cast actors who weren't afraid of this edgy material and who physically fit the bill. The first actor secured for K-11 was del Castillo, after a six-month process.
"I looked her up and saw a photo of her ... for [TV series] 'La reina del sur,'" Stewart said. "I thought, 'Oh, my God, that's her. That's the girl.' We went to meet her, and she was absolutely charming and wonderful. I was hooked."
Then there were those who demanded a part in the film.
"Tiny Lister came to me proclaiming that he was, in fact, Detroit. I had no choice and I had to cast him, so I did. I thought it was amazing," Stewart said.
For long-time friend Mewes, Stewart saw the opportunity for him to stretch himself outside of the goofy, stoner kind of characters such as Jay of the "Jay and Silent Bob" movies.
"He's a serious actor, and I gave him the chance to prove it," she said. "And I think he did. … Everybody really brought their A-game."
It took Stewart six years to get K-11 financed. A script supervisor for about 30 years, she had no intention of directing the film. That all changed when the project's financers agreed to sign on, only with Stewart at the helm.
"Because of the material and my experience, they didn't want to just hand it over to somebody that wasn't connected," she said. "I hope they made the right choice.
"My learning curve was from here to the moon and back. … I've sat next to a lot of directors, but until you've actually had to do the job, there's no way you could understand the depths of what is expected of you."
Now that she's tested out her filmmaking abilities, Stewart is already in the process of writing her next project, which she intends to direct — The Locked House, three short stories in one film, "all about killers."
"I'm intrigued by the dark side, so I don't think I'd ever throw my hat in the ring to direct a romantic comedy," said Stewart, who counts the "Alien" trilogy and Underworld as some of her favorites. "It's just not the kind of thing that I think I could bring a lot to the table for."