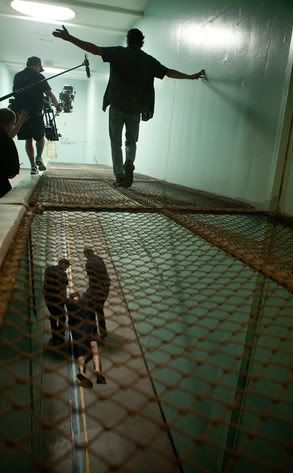 This extreme aerial shot is from the beginning of the film when Goran Visnjiic's character, Raymond Saxx, has been arrested and is passed out from a three-day drug binge.
In this scene, he is being dragged into the L.A. County Men's Central Jail for processing, before being categorized "K-11."
The dangerous unit specializes in protection for LGBT inmates and the prison is ruled by a transsexual diva named Mousey (

Kate del Castillo

). So expect some heavy dish in Mama Stew's directorial debut.
Our K-11 source also shared some exclusive deets on the film—this behind-the-scenes shot was taken at the movie's main location: the Sybil Brand Institute for Women (now defunct) in Monterey Park, Calif. The crew member up top walks on the chain-link "cage"—a real feature of the jail meant to keep prisoners from jumping from one level to the other while being transferred.
Jules is clearly dedicated to making this movie as real as possible, and we're guessing there's going to be some seriously intense scenes to come.
Every shot we see gets us more amped for this edgy jailbird flick. Add Kristen's voice-over cameo to the mix and we're itching with excitement for the release of the trailer.