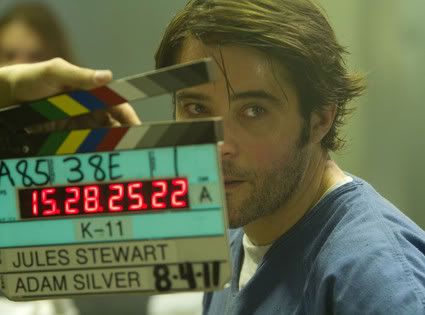 We first told you Kristen Stewart will indeed be making a cameo in her mother, Jules Stewart's, directorial debut for the hardcore prison-flick, K-11.
And now we have an exclusive behind the scenes photo from the gritty jailbird drama starring Goran Visnjiic (K.Stew will make a cameo voice-over as his secretary).
Looks crazy intense and totally cool, right?
Yep, from the first look at this badass shot, we'd say a rebel spirit runs in this family's genes…
Here's a quick recap of the plot:
Raymond Saxx (Goran Visnjiic) is a powerful record producer hooked on drugs and booze. He wakes up from a blackout only to find himself locked up in L.A. County's notorious K-11 unit, which specializes in protection for LGBT inmates.
This shot is from inside the walls of the prison and Visnjiic's sweaty face and terrified eyes give us a sneak peek into just how intense this movie's going to be.
Add the fact that the prison is ruled by a transsexual diva named Mousey (played by Kate del Castillo) and it's safe to say this über-intense flick's 'bout to have lots of sex, drugs and controversy galore.
But we must say this is a gutsy move for Mama Stew—this is, after all, her directorial debut—and she's addressing some pretty taboo topics in her first movie about the sex crimes unit (not that we're complaining).
Is this where badass K.Stew got her rebel spirit from?
Certainly looks that way—this mother-daughter duo definitely has some ballsy blood running through their veins.
As for when the completed film will finally be unveiled? No release date's been set but we're getting more excited for this movie with every juicy deet we hear.
Keep checking back for more K-11 scoop and in the meantime, let's hope Kristen stopped by her mom's set and someone snapped a pic of the Stew gals together.
Just imagine how badass that photo would be.