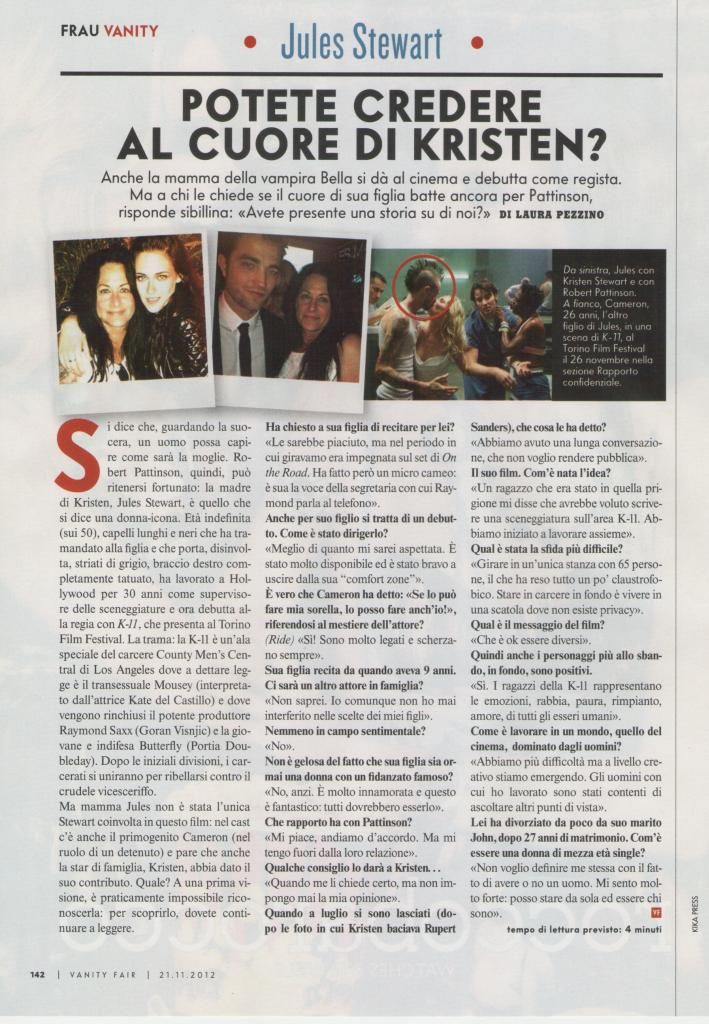 Bella's mom takes up cinema and debuts as a director. But when asked if her daughter's heart still beats for Pattinson, she cryptically answers "do you remember a story about us?"
They say that, looking at his mother-in-law, a man will know how his wife will be. Well then, Robert Pattinson can consider himself lucky, Jules Stewart is an icon lady.
Her age is undefined (about 50) long hair and black who bequeathed to her daughter and that leads, casual, streaked with gray, her right arm fully tattooed, has worked in Hollywood for 30 years as a script superviser and now with her directorial debut with K-11 presenting at the Torino Film Festival. The plot: K-11 is a wing of a special prison in the County Men's Central Los Angeles to dictate law with the transsexual Mousey (played by actress Kate del Castillo) and where they are locked up with the powerful producer Raymond Saxx (Goran Visnjic) and the young and defenseless Butterfly (Portia Doubleday). After the initial divisions, the prisoners will come together to rebel against the cruel deputy.** (this paragraph google translated by K11MovieFanSite)
Mama Stewart isn't the only Stewart involved in the movie. In the cast there's also the first-born Cameron, and it seems that the star of the family, too, Kristen, made her contribution. What is her role then? At a first screening, it's virtually impossible to recognize her, so keep reading to find it out.
Did you ask your daughter to play in your movie?
"She would have loved it, but she was busy doing On The Road when we were shooting, she does have a little cameo, though. Hers is the voice of the secretary Raymond speaks over the phone to."
And it was your son's debut. What was it like?
"It was better that I'd expected. He was very helpful and he very well managed to come out of his comfort zone."
Is it true that he told you 'if my sister can do it [being an actor] I can, too'?
[laughs] "Yeah, they're very close and always joke."
Your daughter has been acting since she was 9, will there be another actor in the family?
"I don't know, but I've never interfered with their choices anyway."
...neither about love?
"No."
Aren't you jealous your daughter is now a woman and has a famous boyfriend?
"No, on the contrary. She's very much in love and it's great. Everyone should be."
What's your relationship with Pattinson?
"I like him, we get along. But I keep myself out of their relationship."
You must give Kristen some advice, though
"Oh course I do when she asks for it, but I never impose my opinion."
When they broke up in July (after those pictures of her and Rupert kissing) what did you tell her?
"We had a long conversation which I'm not going to share."
Where did the idea of your movie come from?
"A boy who went to that jail told me he'd want to write a screenplay about the K-11 area, so we started to work together."
What was the hardest scene to shoot?
"Shooting a scene with 65 people in one room, which made it a bit claustrophobic. Being in jail is basically like living in a box where there's no privacy."
What is the message of the movie?
"That it's okay to be different."
Does that mean that even the most adrift characters are good?
"Yes. The charachters of K-11 represents the emotions, the anger, the regrets and love of every human being."
What is it like to work in a business that is full of men?
"We may have more difficulties but we're now coming out with our creative side. The men I worked with were happy to listen to other points of view."
You have divorced your husband John after 27 years of marriage. What is it like to be a middle-aged single woman?
"I don't want to define myself on the fact I have or don't have a man. I feel very strong. I can be by myself and be who I want."